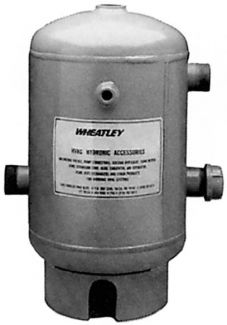 Tangential Air Separators
ASME constructed and stamped. National Board registered Tangential design results in smaller unit. Provides air-free fluid flow which protects against damage and system noise. Helps prevent waterlogged compression tanks. Grooved inlet and outlet connections. Higher working pressures available.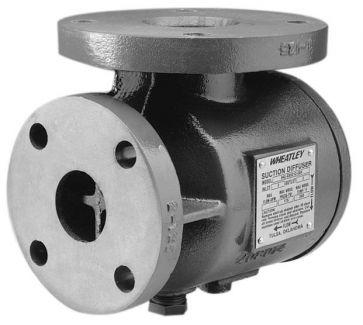 Flow Diverters
The Wheatley suction diffuser is designed to reduce space and installation costs by replacing a long radius elbow, strainer and extended entry pipe on the suction side of the pump.

WFA Tanks
Features: Removable and replaceable heavy-duty Butyl rubber bladder WFA "Full Acceptance" Series for large expanded fluid volumes ASME constructed and stamped NSF Approved Bladder

BDT Tanks
Designed to absorb expansion of fluids in typical hydronic systems. The BDT Tank is designed for storage of potable water for pressure boost systems as well as typical cooling and heating applications. Bladder material is suitable for hot water applications. Installation of tank will help eliminate constant pump use prolonging pump life and unnecessary blowing of relief valves.

WPA Tanks
Removable and replaceable heavy-duty Butyl rubber bladder n Economical "Partial Acceptance" WPA Series for small installations and chilled water applications n ASME constructed and stamped n NSF Approved Bladder
Air Separators
Suction Diffusers
ASME Tanks