"Love what you do and you will never work a day in your life." Confucius.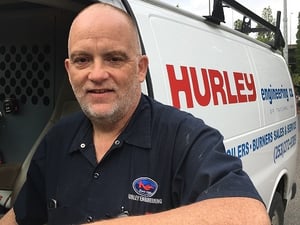 A recent social media post from one of the technicians in our company caught my attention. His post simply said "one of my top three customer installations in my career" and included several pictures of a project. I looked at the installation and I recognized the project as a boiler and pump installation that we did with a local church. I immediately wondered, what was it about this particular project that resulted in him adding it to his list of top installations? This dedicated technician is currently in his 15th year with the company and has been a key component of some very impressive work over the years.
With so many years of experience, what was it that made this project stand out as worthy of recognition at the top of his list? Was it the customer? Was it the quality of products that he recommended on the project? Was it the ease of installation? Was it the pride in workmanship? I was very intrigued to discover the answer, so I sat down with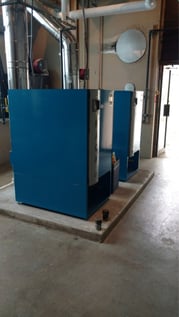 him and simply asked. The answers he gave me is how we all want to feel about the work that we do.
"This project is in the TOP 3 of my career"
To understand his perspective on this project, we can begin with reviewing the original scope of work. St. Gabriel's Church approached Hurley Engineering with a boiler project which consisted of replacing an aging Birchfield boiler with a temporary boiler and then adding a second boiler in place of the Birchfield.
Starting with input from the customer and the mechanical contractor, our team chose the correct equipment based on size, efficiency and cost of ownership. We carried the team strategy throughout the project and after the sale.
Key Factors for Success.
Customer satisfaction was the primary reason that this successful project was memorable. The initial opportunity with the church was to replace a failing boiler system with an affordable solution. Correct product selection is paramount to achieving a successful project. Patterson Kelley Mach boilers have a small footprint, and are reliable and efficient to operate. A perfect fit for the boiler pump was the Grundfos Magna 3 with constant curve and auto adapt, among other great features, which combined to optimize the boiler and/or boiler loop operations. Proper layout, operation, and installation are factors that can all be enhanced by working with an skilled mechanical contractor.
Although the quality of products always plays a huge role in how smoothly a project goes, the product must be applied properly. Every product has its features and benefits, such as ease of installation, cost, operation, physical size, cost of ownership, product support, and warranty. However, not every product, no matter how good, is right for every situation.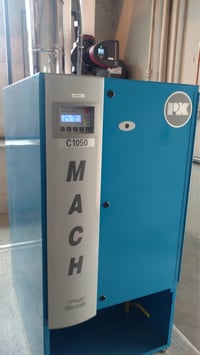 Ease of installation also plays a major role in the overall success of the project. Teaming with experienced mechanical contractors, reliable product suppliers, and having a great project support team is crucial to project success. On this project we collaborated with a fantastic mechanical contractor to execute a simple installation according to the manufacturer's best practices.
Pride in workmanship is another mark of a great project. In this case the customer gave the mechanical and Hurley Engineering a blank canvas to do the job with "Best Practices" in mind. Because of the earned previous relationship with this client, they had full faith that we would have their best interest in the forefront of our decisions for this project.
So the ultimate answer to "What makes a project memorable and successful?" is ........ALL of the above. The most important step in achieving a successful project begins with meeting the customers overall needs. Focusing on the customers experience throughout every phase of the project will provide the greatest opportunity for a successful outcome.
We are proud of the service that our dedicated team was able to provide on this project and are also proud that our team truly cares about providing outstanding customer service and making sure that Hurley Engineering will have the opportunity to continue to provide that customer with excellent service in the future.